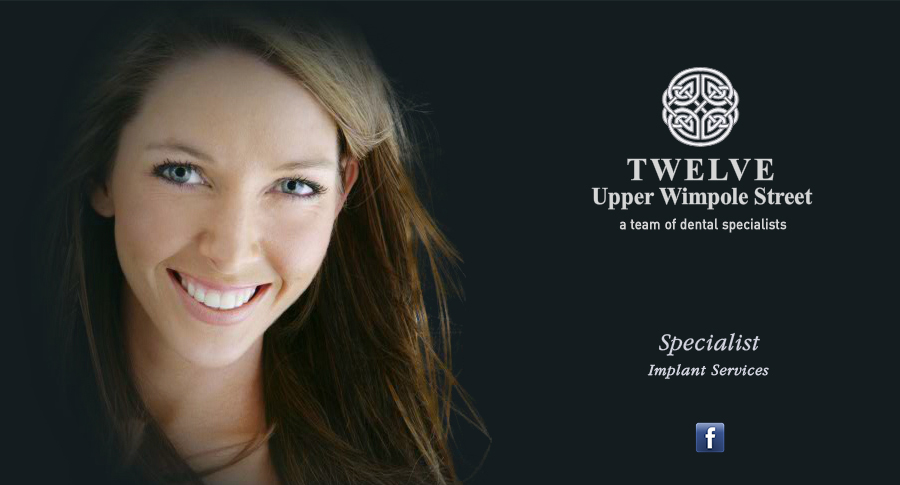 We have moved

Dentist in London W1 at Wimpole Street dentistry offer advanced dental treatments, face and beauty treatments and cosmetic dentistry treatments.
Dental Practice Description for Accessibility

Why Choose Us

Hello and welcome to our practice on the web! We are located in a beautiful historic building in the heart of London's private medical district. Our practice offers a pleasant relaxing and cheerful environment, where the treatment and facilities available in the fields of COSMETIC & RESTORATIVE dentistry as well as DENTAL IMPLANT & ROOT CANAL/ ENDODONTIC work are among the most up to date available.

We aim to provide the very highest standards of treatment. We really do care about our patients, and take every effort to develop a happy relationship with everyone we see.

We look forward to meeting you at "Number Twelve"

Our Team

Ewan Maclean
GDC No. 57991
Restorative
Cosmetic
Implants
Root Canal/ Endodontics

Shiraz Gulamali
GDC No. 54436
Implants
Periodontics/ Gum treatment

Satinder Matharu
GDC No. 54224
Root Canal/ Endodontics

Treatments

Cosmetic Dentistry

Teeth Whitening

Teeth are stained by the foods and drinks we consume. Smoking further stains teeth and the natural bright, white shade becomes darkened. Teeth whitening is a successful and simple method of lightening the colour of your teeth. The degree of whiteness achieved will vary from patient to patient and with the type of bleaching process chosen.

Office ZOOM! Teeth Whitening

Your teeth can be lightened immediately using this technique which is conducted in our Dental Practice.
Our Office 1-hour power whitening can whiten teeth by up to several shades, brightening your teeth dramatically to its natural shade. Your lips and gums are covered and a gel is applied to your teeth. A special light is positioned over your teeth to activate the gel, which gently penetrates your teeth, breaking up stains and discolouration. Whiter, brighter teeth in less than an hour!

Home Whitening

A custom made mouth tray is created. A whitening gel is placed in the tray which you then wear whilst asleep or for short periods during the day.
Results are normally seen over 2 weeks.

Porcelain Veneers

If your front teeth are stained, chipped, or malaligned, veneers will give you a good life-like appearance with minimum tooth adjustment.
A veneer is a porcelain facing on the front of your teeth usually your top teeth, it is just like a false finger nail.

Veneers are made out of porcelain and are used mainly for aesthetic reasons.
Veneers make teeth look natural and healthy, and because they are very thin and are held in place by a special strong bond (rather like super-glue) very little preparation of the tooth is needed.

Porcelain veneers can improve the colour, shape and position of teeth.
A precise shade of porcelain can be chosen to give the right colour to improve a single discoloured or stained tooth or to lighten front teeth (usually the upper ones) generally.

Veneers can also be used to close small gaps, when orthodontics (braces) are not suitable.
If one tooth is slightly out of position, a veneer can sometimes be fitted to bring it into line with the others.

Bonding

Sometimes instead of a porcelain veneer, a natural colour 'composite' material is used instead of porcelain.
A natural-coloured filling material can be used for minor repairs to front teeth like chipped or broken tooth corners.

White Fillings

If the decay is not too serious, our cosmetic dentist will remove all the decay and restore the tooth with a white (tooth coloured) filling.
Our dentists can safely replace silver amalgam fillings with white tooth coloured fillings.
Dental decay happens when the enamel and dentine of a tooth become softened by acid attack, producing a cavity (hole).
More about decay detection in our Preventive Dentistry section.

Gum Contouring and Teeth Reshaping

Lengthen the appearance of your teeth by reshaping your gums.
Shorten, smoothen or level your teeth to improve your smile line.

Broken Teeth

A veneer can make a chipped tooth look intact again. The porcelain covers the whole of the front of the tooth with a thicker section replacing the broken part.

Bonding: Sometimes instead of a porcelain veneer, a natural colour 'composite' material is used instead of porcelain.
A natural-coloured filling material can be used for minor repairs to front teeth like chipped or broken tooth corners.

Crowns

A crown is an artificial restoration that fits over the remaining part of a prepared tooth, making it strong and giving it the shape of a natural tooth.
A crown is sometimes known as a 'cap'. Crowns are an ideal restoration for teeth that have been broken, or have been weakened by decay or a very large filling. They can be made of porcelain or gold or a combination of these materials.

A dental crown could be used for a number of other reasons, for instance:
you may have discoloured fillings and would like to improve the appearance of the tooth
you may have had a root filling which will need a crown to protect it
it may help hold a bridge or denture firmly in place.

Bridges

Besides having dental implants, there are two main ways to replace missing teeth. The first is with a removable false tooth or teeth – a partial denture. The second is with a fixed bridge.
A dental bridge is usually used where there are fewer teeth to replace, or when the missing teeth are only on one side of the mouth. Bridges are usually made of a precious metal base.

If the bridge will show, porcelain is then bonded to the base. Sometimes, there are other non-precious metals used in the base to reduce the cost.
You should replace missing teeth for a number of reasons. Your appearance is one reason. Another is that the gap left by a missing tooth can mean greater strain is put on the teeth at either side.

A gap can also mean your 'bite' is affected, because the teeth next to the space can lean into the gap and alter the way the upper and lower teeth bite together. This can then lead to food getting packed into the gap, which causes both decay and gum disease.

Dentures

Replacing lost or missing teeth has substantial benefits for your health and appearance.
A complete or full denture replaces the natural teeth and provides support for cheeks and lips.
Without this support, sagging facial muscles can make a person appear older and reduce their ability to eat and speak.

A dental denture is an appliance which is worn to replace lost or missing teeth to enable you to enjoy a healthy diet and smile with confidence. A complete or full denture is one that replaces all of the natural teeth in either the upper or lower jaws. A partial denture fills in the spaces created by lost or missing teeth and is attached to your natural teeth with metal clasps or devices called precision attachments.
The base of a denture is called a plate and can be made of either acrylic (plastic) or metal. The teeth are normally made of acrylic and can be made to match your natural teeth. This is especially important in the case of partial dentures.

Hygiene

Dental hygiene treatment includes professionally cleaning the teeth for the patient. This is usually called scaling and polishing. However, perhaps our most important role is showing the patient the best way to keep the teeth free of plaque.
Our dentists and hygienists can advise on the use of toothbrushes and also specialised oral hygiene aids, which will help to render dental hygiene and plaque control more effective.

In our area of London, we recommend pharmacists John Bell & Croyden, who keep a very extensive range of oral hygiene products reliably in stock.
The dentist also plays an important role in treating gum disease.

Bad Breath

Bad breath is a very common problem and there are many different causes. Persistent bad breath is usually caused by the smelly gases released by the bacteria that coat your teeth and gums.
However, strong foods like garlic and onions can add to the problem. Smoking is also one of the main causes of bad breath, along with certain illnesses such as nasal and stomach conditions.

Bits of food that get caught between the teeth and on the tongue will rot and can sometimes cause an unpleasant smell. So correct and regular brushing is very important to keep your breath smelling fresh.
The bacteria on our teeth and gums (plaque) also cause gum disease and dental decay. If you see your dentist regularly this will not only help prevent bad breath but will also let the dentist look for and treat these problems.

Children/Paediatric Dentistry

Our Dentists aim to prevent dental disease rather than treat it at a later date.
Fluoride applications and fissure sealants (tooth coloured sealants) are applied to biting surfaces of children's teeth to prevent decay.

Gum Disease Treatments

Gum or periodontal disease is actually the most common cause of premature tooth loss. As the condition is generally painless, many are not aware of its presence. In its simplest form, treatment and prevention is a function of effective oral hygiene and plaque control, combined with professional cleaning by your hygienist or dentist at regular intervals. Some may require professional cleaning at more frequent intervals than others. Hygiene sessions will usually be carried out as part of your routine examination.

When periodontal deterioration is more advanced, there is usually loss of the bone which supports the teeth in the jaws, and also the formation of gum pockets which may be difficult or even impossible to clean and maintain. It is at this stage that specialist periodontal treatment may be required. Where appropriate, gum pockets can be surgically eliminated, facilitating the ease with which affected areas can be effectively cleaned, thus enabling the gum tissues to return to health. In some cases where bone has been lost, new bone can be added to replace it, using the latest bone regenerative procedures.

Specialist periodontal care also has major relevance in the field of cosmetic dentistry, where uneven and poorly shaped gum lines can be re contoured and re shaped to give an aesthetically pleasing outline. In some cases where a lot of gum has been lost, we can use grafting techniques to reconstitute lost tissue.

Tooth Decay Detection

Decay may or may not cause discomfort; even though it doesn't hurt, the tooth is deteriorating.
Using higher magnification and powerful lighting, it is easier to detect decay at an early stage to prevent excessive tooth damage. When cavities are small, they are much easier and less expensive to treat.

Early tooth decay does not tend to show many physical signs. Sometimes the tooth looks healthy, but your dentist will be able to see from an x-ray whether you have any decay under the enamel, any possible infections in the roots, or any bone loss around the tooth.
At number twelve, our set up enables our periodontal specialist to work in close contact and communication with the restorative dentist to bring about the best possible outcomes.

Mouth Cancer Screening

Mouth cancer is a malignant growth which can occur in any part of the mouth, including the tongue, lips and throat. Mouth cancers have a higher proportion of deaths per number of cases than breast cancer, cervical cancer or skin melanoma. The mortality rate is just over 50%, despite treatment, with about 1,700 deaths per year in the UK. This is because of late detection. Visit your dentist at once if you notice any abnormal problems or are not sure. Regular dental checkups allow early detection of abnormalities in the mouth.

Mouth Cancer Foundation
The Mouth Cancer Foundation is a registered charity that raises awareness of mouth cancers and proviedes information and support to patients, carers and health professionals.

Giving Up Smoking
It's not easy... So that's why this web site is here. Giving up smoking requires preparation, determination, and support. This site is here to help you with each of these. If you're thinking about giving up, have a look-in.

Dental Implants

Today implants are transforming people's lives as they are becoming the most ideal method for the replacement of missing or lost teeth. We provide a full implant service including the surgical placement of implants as well as the restoration of teeth onto those implants. In cases where bone is insufficient to place implants, we also carry out surgical bone augmentation and sinus lift procedures. Where appropriate, we use computerised tomography to successfully plan our cases.

Oral Surgery (Extractions)

Oral surgery can be provided with sedation for nervous patients.

Wisdom Teeth

Sometimes there may not be room in your mouth for your wisdom teeth and, as they start to come through, they push against the teeth already there or may start to come through at an angle. When this happens, you might feel some pain or discomfort, so the best thing to do is to visit your dentist.
The dentist will probably take an x-ray of your mouth to see how - or if - your wisdom teeth are coming through. From this, they will be able to make a judgement on whether or not to take them out, and how easy or difficult it might be. Extractions can also be done under sedation.

Extractions

Having a tooth out is the same as having an operation and, because of this, you must look after the area to speed healing and to reduce the risk of infection. Here are some pointers:
For the first 24 hours, try to avoid eating hot food, don't smoke, don't drink any alcohol and try not to disturb any blood clot which might have formed.
Don't rinse your mouth for 24 hours after extraction. After that, rinse gently with warm salty water - half a teaspoon of salt in a glass of water is enough.
Brush your teeth as normal to keep your mouth as clean as possible.
You may feel some small pieces of bone work their way out of the socket - don't worry, this is perfectly normal.
There may be some swelling and a bit of discomfort in the first two to three days. If you need to, take some ordinary painkillers - aspirin, ibuprofen or paracetomol will be fine.
If you feel pain a few days after the tooth has been removed, it might be where the blood clot has broken down leaving an empty hole in the gum. This is called a 'dry socket' and will need to be looked at by your dentist. Simply go back and the dentist will pack the wound to ease your discomfort.

Your dentist may have given you some gauze to place onto the area where the tooth has been removed - if not, a clean cloth handkerchief will do just as well (but not a paper tissue).
Roll it into a small firm pad large enough to fit over the gap (probably around 1cm by 3cm).
Sit up and gently clear away any blood clots around the gap using the gauze or hanky.
Put a clean pad over the gap (from tongue side to cheek side) and bite down on it firmly for 10 to 15 minutes.
Take the pad off and check whether the bleeding has stopped. If not, apply a fresh pad and contact your dentist

Endodontics/Root Canal Treatment

Endodontics refers to root canal treatment. Every healthy tooth contains within its centre a nerve which enters the tooth via the root canals. Advanced tooth decay, trauma or tooth fracture, and in some cases advanced gum disease, can cause the tooth nerve to become diseased and extremely painful. When this situation occurs, root canal treatment is required if the tooth is to be saved. It isn't always so, but root canal treatment can be quite complex and beyond the scope of even experienced general dental practitioners. At No.12, we use the very latest technology including the use of surgical microscopes in order to achieve the highest standards and consistently successful root treatment results.
We provide a comprehensive root treatment service not only to patients of our practice, but also receive many endodontic referrals from other practices.

Sedation

Is there anything that can help me with my fear of the dentist?
Yes. Some people are so frightened of the dentist that they will not go for dental treatment. They can overcome their fears with relaxation or sedation. Our dentists are sympathetic about these feelings, and you can ask our dentists about these ways to help.

What is sedation?
We offer an intravenous or IV sedation. This is given by injection, either in the back of your hand or in your arm. The dose will depend on the amount of treatment needed and the length of time it will take to complete.

How will IV sedation in the surgery affect me?
You become drowsy and unaware of any treatment, but you are still able to co-operate with the dentist. The effects of sedative medicine take some time to wear off and your dentist will tell you how long the drugs will take to clear from your body. You won't be able to drink alcohol, drive or work machinery during this time.

How does relaxation work?
When we are faced with a challenge or something we're afraid of, such as a visit to the dentist, our bodies produce substances, which raise our anxiety. However, we can train our bodies to work against this anxiety, by learning to relax. It's not possible to be anxious and relaxed at the same time, so learning relaxation helps control our anxiety.